GripAce
Grip Ace(tm) universal digital motorcycle switch kits
How Grip Ace Works
Grip Ace(tm) digital switch kit replaces the stock handlebarSwitches or adds switches to custom motorcycles. The four-push button rubber switch pad gives 6 different switch functions. The switches in the kit are used to control Starter, hi/lo headlights, turn signals, hazards andHorn. The system can control other functions needing switches. Works on all motorcycles. Everything you need for your custom build to be complete. Even a custom or stock Harley-Davidson can now have clean handlebars and all necessary switches to be street legal.
The Grip Ace(tm) switch pad can be installed in the grip, handlebar, or the bike itself, under the gas or oil tank, in triple tree, frame etc. Wire your handlebars in minutes. The Grip Ace(tm) switch pad can be fitted into most stock and aftermarket rubber or billet (aluminum) grips by cutting or machining an opening in the grip and gluing the switch pad to the grip or handlebar. 
Grip Ace(tm) also offers the service of machining of grip and installing the switch pad. Grip Ace(tm) digital switch kits are also available preinstalled in hand grips for popular applications.
| | |
| --- | --- |
| | |
| Major Savings in Installation Labor & Time | Hidden Switch Controls in Left Handgrip |
| True Customization / Infinite Possibilities | Wire Any Size Handlebars from Custom Ape   Hangers to Sportbike Clip-Ons - Easily! |
| Simple One Wire to your Handlebar makes it   Dealer / Installer quicker, more affordable | Complete Kits Priced from US $399.95 (KIts with Grips priced higher) |
| Custom Fit to Hand Grips of Your Choice | |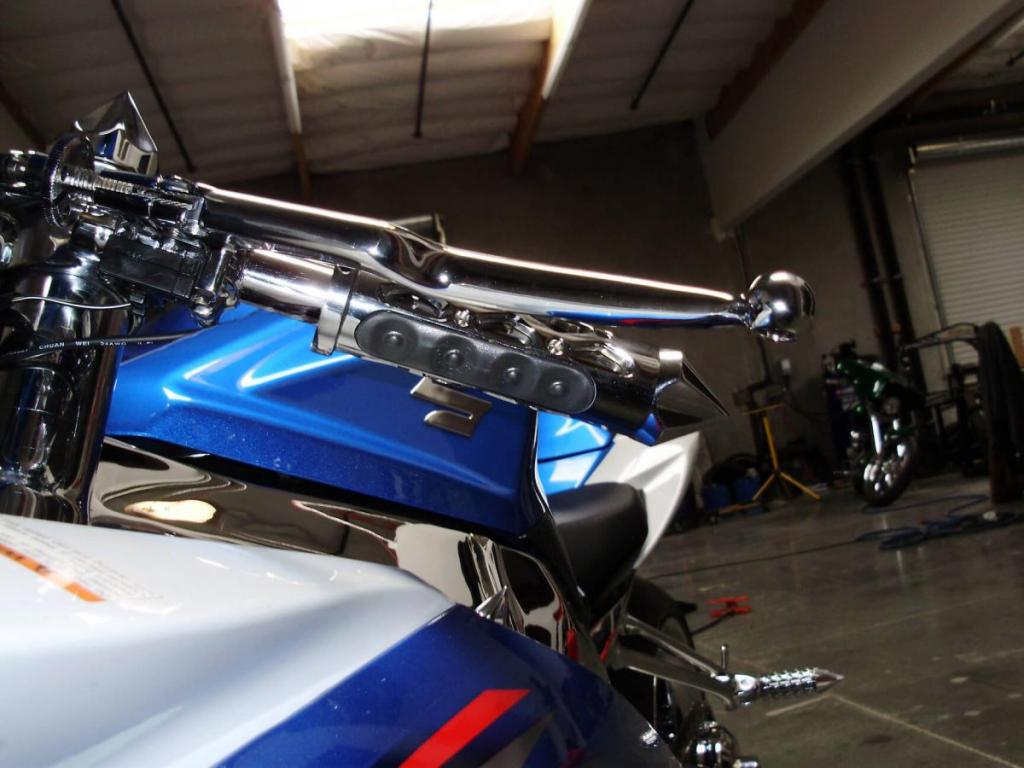 It's time we all have clean handlebars and custom looks with the Grip Ace(tm) Digital Switch System.
Unlimited Customization!
Replace your Bike's Stock Wiring Clutter and Bulky Switches....
BLUE System: 
This system is used for motorcycles that do not have self canceling turn signals and are equipped with their own flasher relay or an added EP-35 flasher relay for customs.
• Part # GA-K-BC is for total custom motorcycles. 
• Part # GA-K-BST is for standard OEM production motorcycles that wish to remove stock switch housings 
                                   and are equipped with their own flasher relay.
NOTE: If stock flasher relay is inoperable with GripAce system then the use of an EP-35 flasher relay will be necessary
RED System: 
This system is used for HarleyDavidsons, BMW or motorcycles that are equipped with their own turn signal modules, not a flasher relay.
• Part # GA-K-RHD is also the system used for controlling a Wire Plus; Badlands, Thunder Heart or similar logic module control units.