XD1 Adventure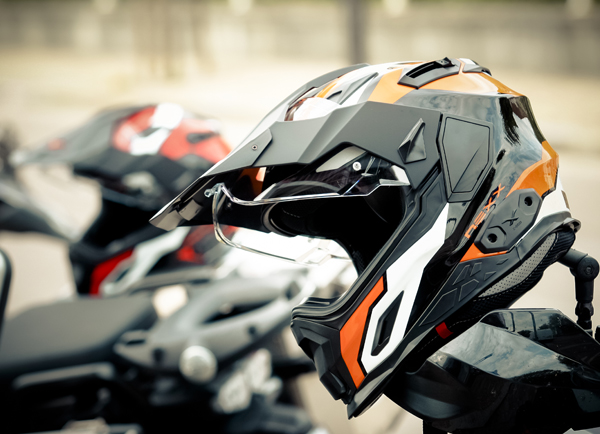 NEXX XD1 DUAL SPORT ADVENTURE HELMET

The Nexx XD1 is a phenomenal success and has beaten many high end competitors and won awards for best adventure helmet overseas.
The XD1 is the first Dual sport Adventure model from Nexx and they've got it right first time. Not only is it one of the most competitively priced helmets in this segment, it's packed with features which more expensive alternatives don't have. Most importantly, a retractable sun visor, an essential feature that Adventure riders demand. Additionally for off-road riders, it also offers the versatility of using googles in dusty conditions.
But the XD1 is not just an Adventure helmet. The helmet can be quickly and easily switched, without the need of any tools, between an off-road / adventure touring helmet to full-face for street riding or touring. 
But most importantly, the Nexx XD1 is all about safety! Tear Shaped, the chin area combines a unique shape, with a softer and rounder base edge, to reduce chest injury risk from frontal impacts. Structurally the XD1 is made with Nexx's new X-Matrix technology, a process that combines multi-axial fibreglass, 3D organic fibres, special aramid fibres and carbon reinforcement. The result is a super strong and lightweight shell, one of the lightest on the market in fact, plus 35% stronger for extension and bending resistance than normal fibreglass. 
The XD1 is equipped to accommodate the optional Nexx Helmets "X-Com" Bluetooth Bike-to-Bike Communication System, developed in cooperation with the renowned Bluetooth company Sena. This makes the X-Com fully compatible with Sena Bluetooth systems as well as a wide range of other Bluetooth v3.0 Universal Communication Systems. Another unique feature of the XD1, is that it comes with the options for accommodating helmet cameras; a removable support can be easily embedded in the top of the peak, plus there are helmet cam supports on both sides of the helmet. The X.D1 is also prepared for the Quick Strap Goggle System, plus it comes with a Pinlock anti-fog insert as standard!
Nexx XD1 Specifications
(Download full Technical Brochure Here)
---
Dual sport helmet; easily switch between off-road/adventure touring helmet to full-face street riding
X-Matrix shell of carbon, kevlar, fibreglass and 3D organic fibres
The XD1 is ECE/22-05, DOT and NBR homologated by Nexx.
80% tint, retractable sun visor
Pinlock anti-fog visor supplied with the helmet
Three bespoke camera supports, to easily affix your helmet cam, one on the top and one on each side of the helmet
Aerodynamic Shell & Rim
Shell available in 2 different sizes: Shell 1 (XS-M)  |  Shell 2 (L-XXL)
2 air inlets and 4 rear outlets for excellent air flow across the top of the head
Ventilation channels in the EPS lining for effective flow away from the ear area
Emergency release, removable cheek pads
PC Lexan Shield Clear with Anti-Fog position and Super Lock
FastShot quick release visor system
Panoramic Eye Port
CoolMax, soft anti-sweat and anti-allergic fabric inner lining
3D Inner Lining, removable and washable
Anti-noise Cheek pads
Chin Windstopper
Removable breath guard
Double D-ring to secure
New Block'N'Seal Visor System (with dual resistance visor) and X-SWIFT Quick Release System
Night vision reflectors
Special Chin Shape to reduce breast injury risk from frontal impacts
Ergo Padding System for bespoke fit
RRP PLAIN COLOURS – AUD $699.95
RRP BAJA GRAPHICS – AUD $799.95