XG100 Retro Full Face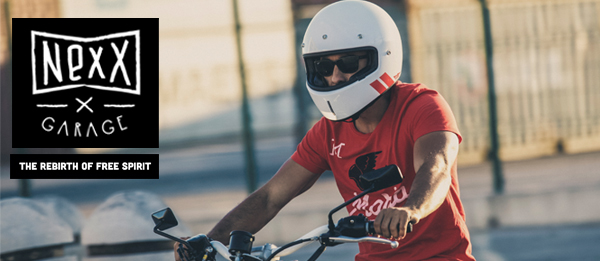 Nexx X.G100 RETRO
 Introducing the brand new Nexx X.G100. Bar none, this is the coolest full face retro lid on the market! Take everything you know about motorcycle helmet design and throw it out of the window. The design of the Nexx X.G100is as unconventional as the people who wear it. Designed not in boring offices, but inspired by tales of the past, special stories of motorcycling and riding without boundaries. The X.G100 is a match made in heaven for your scrambler, cafe racer, custom, cruiser or naked. Choose how you wear it!
 But the Nexx X.G100 isn't all about all style at the expense of safety. The shell of the X.G100 Retro Full Face is made from a deliberate blend of carbon fibre, kevlar, fibreglass and organic fibres, called the X-Matrix. This makes the helmet 10% lighter than an one with an equivalent fibreglass shell and weighing in at just 1200g it feels super light on your head and in your hands. The X-Matrix shell is also a whopping 35% stronger than a fibreglass shell.
 Taking classic moto styling into the 21st century, the Nexx X.G100 Helmet oozes vintage style yet offers superb protection and performance. The X-Matrix shell delivers outstanding strength combined with weight savings not previously seen in a retro full face lid. The premium shell is complimented with a chin vent and a super soft removable X.Mart Dry fabric liner for ultimate riding comfort. Nexx has even thrown in an old school 3-snap peak visor and removable 60% Smoke PC Lexan shield. The visor secures to the helmet using the supercool studs on the sides of the shell and the peak uses the three studs just above the visor port.
Alongside the X-Garage range of X.G100 models, for 2016 Nexx have had added the Limited Edition "Maria Range"of graphics designed in a special collaboration between Nexx and the Maria Riding Company (MRC). This well-known Portuguese custom bike builder has used its expertise in design to create some of the most visually arresting designs available on any helmet, anywhere. Combining MRC's talent for creativity with Nexx's experience in producing some of the best motorcycle helmets in the world, they've produced the "Maria Range" of Limited Edition Graphic retro designs, the Muddy Hog, Bad Loser, Drake and Tokko.
The Nexx X.G100 - Timeless style blended with modern technology and materials for a helmet that is as unique as you are. 
---
 Nexx X.G100 Specifications:

 

X-MATRIX Shell (multiaxial fiberglass, 3D organic fibres, special aramid fibres and carbon reinforcement)

ECE/22-05,DOT

X.MART DRY fabrics

Soft padding anti-sweat and anti-allergic fabric lining

Removable washable lining

Double-D ring buckle

PC Lexan Shield 60% smoked visor included

Peak included

Chin ventilation

Ergo padding system for custom fit
RRP X-GARAGE PURIST PLAIN COLOURS – AUD $439.95
RRP X-GARAGE BOLT & DEVON GRAPHICS – AUD $469.95
RRP "MARIA RANGE" - LIMITED EDITION GRAPHICS – AUD $549.95